Carl Zeiss Jena vs China
We used to believe that complex devices from China are bad, and ones Europe,Japan,USA are good. Especially with a known brand. Ever heard about Carl Zeiss - world known 170-years old optics brand?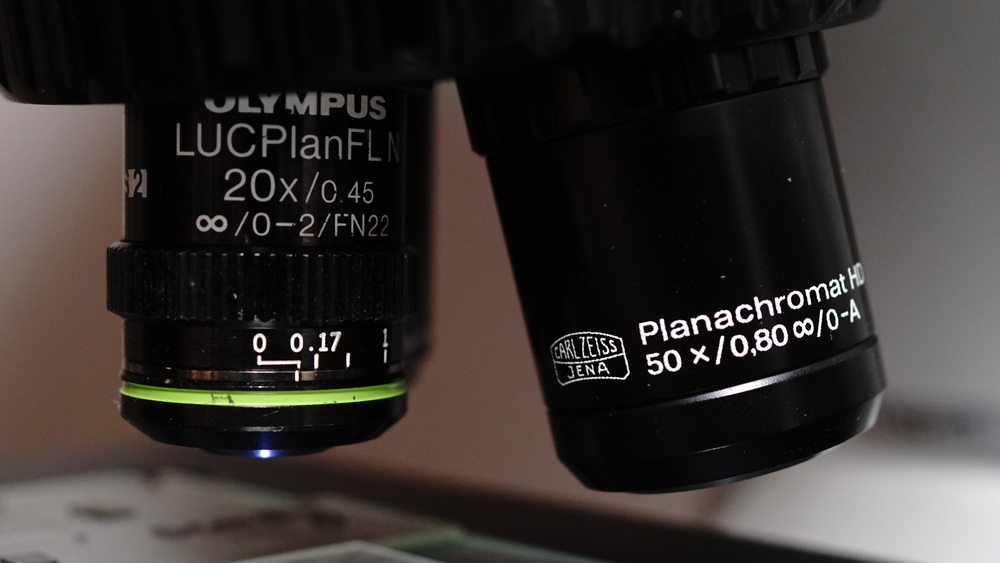 Recently I've got somewhat old and used Carl Zeiss Jena 50x/0.8 Planachromat HD microscope lens. "Jena" means it was manufactured in East Germany part of Carl Zeiss in the (late) Soviet times. Surely after receiving it I was anxious to compare it to my Chinese 100x/0.8 Plan lens... BTW it looks like
my microscope
is somewhat similar in design to Carl Zeiss Jena - that was the first non-native microscope lens which was usable without an adapter (M30 threading and infinity corrected)
Carl Zeiss Jena 50x/0.8 Planachromat HD:

Chinese 100x/0.8 Planachromat:

Noise is lower on 100x lens purely due to higher magnification (image size was reduced to maintain image scale). But we can see that on Carl Zeiss lens there was some sort of 1-axis chromatic trail, which might suggest that at least 1 of the internal lenses got misaligned. Too bad this lens was sold as "no returns"...
So China won this one over older Carl Zeiss Jena. Obviously these days we have more CNC machining, molded aspherics are routine, and good old optics is not granted a win over new inexpensive Chinese ones, especially when we have to factor in lens condition/alignment over the years...
This is not the first time China wins over classic brand used lenses: in the past I was trying to replace my Chinese 5x/0.1 lens with original (used) Olympus 5x ones. 3(!!!) Olympus lenses (2 5x/0.13 and 1 5x/0.15 - all made in Japan, with fluoride element) I was trying were all worse due to uneven field focus. Luckily I was able to return them all.
Moral of the story on German and Japan quality is the following: Trust, but verify.