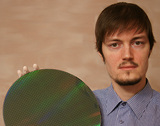 Few words about me:
From very childhood I loved computers, electronics, lasers, sulfuric acid and liquid nitrogen. I always wanted to be making microchips, UAVs and see nuclear explosion.
Now I am doing software engineering and in the spare time - some microelectronics and physics/chemistry experiments.

I live and work in Russia, Moscow.