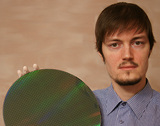 Few words about me:
From very childhood I loved computers, electronics, lasers, sulfuric acid and liquid nitrogen. I always wanted to be making microchips, UAVs and see nuclear explosion.
Now I am doing software engineering and in the spare time - some microelectronics and physics/chemistry experiments.

I live and work in Russia, Moscow.
100'000 lm "nuclear explosion" light fixture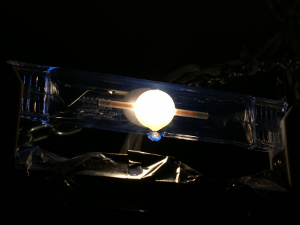 It is a general belief that IT geek should live in darkness with the only light source being computer monitor. Personally, I always liked bright light, but It was never bright enough. Initially my room was lit by 300W of incandescent lamps (4500 lm), then 250W of CFL (~15000 lm), then 500W halogen (~12500 lm)... But it all was way too weak. I always wanted light to be so bright, that you don't want to make it brighter. Now I achieved this goal and happy to share the results.
Upgrade time! LGA2011 FTW
Finally, decided not to wait Ivy Bridge-E: i7-3820, Gigabyte X79-UD5, 8x4Gb Samsung DDR3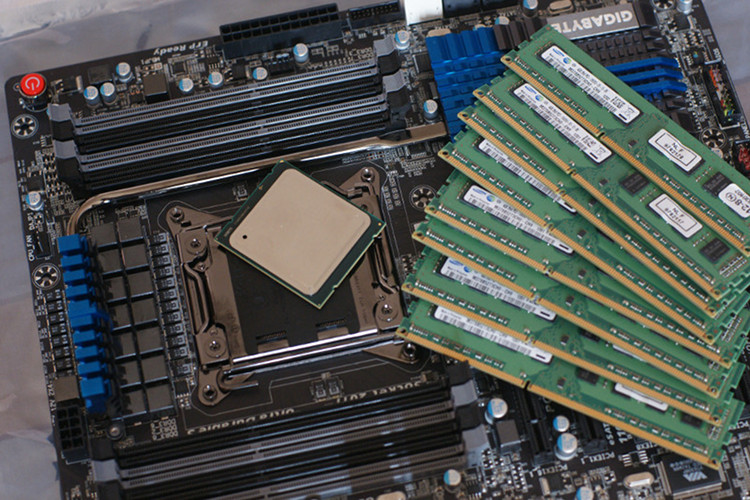 Upgrading videocard. Using a diamond cutting wheel.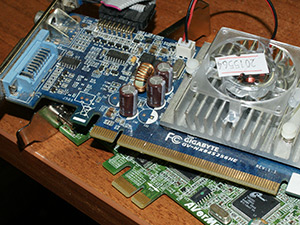 Many of you might have heard anecdotes about people using saws and other tools to plug incompatible cards & modules into PC...
This actually happened to me: recently I needed an PCI-E x1 videocard, as all x16 slots were already occupied. PCI-E x1 cards are being sold but they are rare and quite expensive. I decided to try to upgrade (or better say modify) my spare PCI-E x16 videocard nVidia 8400GS to fit into x1 slot.
There are 2 possible approaches to this problem: remove a "wall" on PCI-E x1 slot on the motherboard so that x16 card fits in, or cut the videocard. As motherboard was still on warranty, I decided to cut the videocard.
Building nuclear reactor at home - from scratch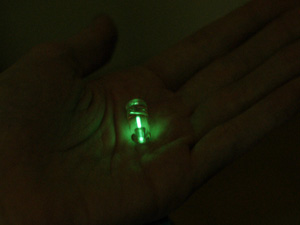 Some time ago I've published article about
homemade cpu's
, and today we'll be talking about more complex and dangerous things (especially in spite of recent Fukushima accident) – building nuclear reactor at home, which would be able to generate electricity. And before you will start worrying or being skeptical in advance (see
Radioactive boyscout
) I will say that everything mentioned in this article is more or less safe (at least, as safe as working with
Hydrofluoric acid
at home), so I strongly recommend anyone to not try this at home. Also, before thinking of doing something – talk to your lawyer – laws are different country-to-country, and many are already in prison

Homemade CPU – from scratch
Since 1975 when one need a processor – the only option is to buy one. In the most complex case one might consider going for configurable FPGA processor (like Nios II) with few extra commands, and that's it. Nowadays it is hard to believe that these fancy processors might be obtained some other way than just buying one. It's just like thinking that beef and bread is only made in the local shop.
Why one would need to return to "root" technology? Well, to be sure that we can resurrect the technology if something happens with current Chinese factories and Engeneering centers in few countries

and to know in very detail how exactly things works.
It appeared that there are guys who did developed homemade processors as a hobby. They are usually made out of low-scale microchips (registers, counters, e.t.c) or low level discrete elements (transistors, relays). The only big chips used are memory and flash memory.
In this article I want to do a brief on architecture of homemade processors and show some greatest processors made at home.
Earth destruction: Meteorite threat assessment
Lately some of internet community was shocked by a missed 7 meter meteorite, which was detected just 15 hours before minimal distance to Earth, and that showed that we are still under risk of going Dinosaur way – have a breakfast, and then suddenly die due to meteorite impact

Some might say "Hey, this 7 meter meteorite is so tiny to cause any damage". I am not going just believe that, let's find out by ourselves!
I'll show you that meteorite damage assessment is not something available for eggheads only: you might find all required information and tools for that in the internet, and I'll show you how :-)
The only thing you should remember from School physics course is that every moving body have kinetic energy, and whatever you do with that body – amount of energy is preserved. I.e. when meteorite hit the Earth – this energy gets converted to heat of explosion and shock-wave.
Using Atom 330 with server applications
Recently I've tried to bring some attention to Atom-based servers for private web-hosting. There were many skeptical about this idea: "How can cheap netbook processor work in a server?". Now some companies provide collocation for atom-based nettops for a reduced price (~30$, usual price for 1U server is around 100$), and I wanted to share my experiences after using such server for a month.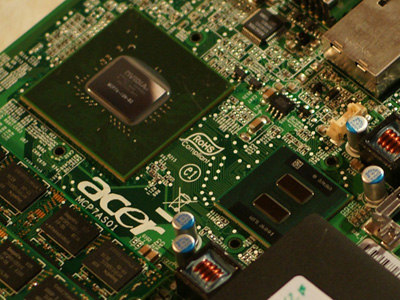 Server configuration: Acer Aspire Revo 3600 on nVidia Ion platform, Intel Atom 330 (2 physical cores, 64-bit), 4Gb DDR2-800 RAM (Ubuntu 64 managed to see just 3.2Gb, looks like BIOS issue), SSD OCZ Vertex 30Gb. I had several SSD optimizations applied: noatime mount, disabled access-logs, disabled swap – all this to extend drive life, but this is a topic for a separate article. BTW, during first month of usage I've spent around 0.5% of the drive resource.
My experiences of Google AppEngine usage
Warning!
This article was written in the first months of Google AppEngine. Today it is completely obsolete.
Disclaimer
: This article is not about "I am so clever, Google is so stupid". This article is about some Google AppEngine problems (or peculiarities) which might not be obvious for newcomers.
You know, Google did really nice things: great search, and awesome mail. It gets a lot of valuable private information about our habits through that, but we continue to use these things because they are so awesome at solving their task...
There was some hype about AppEngine lately, so I've decided to give it a try in my new project.
I've chosen Python with Google's native libraries to ensure best compatibility & performance.
I've started from the performance tests, and the results were…. Disappointing:
| | |
| --- | --- |
| Test description | Hits per second |
| print 'Hello world' | 260 |
| 1 read from Datastore, 1 write to Datastore | 38 |
| 1 read from Datastore | 60 |
| 10 reads from Datastore, 1 write | 20 |
| 1 read from memcached, 1 write to memcached | 80 |
| 1 read from memcached | 120 |
| Non-google complete PHP application, 6 SQL queries, http://3.14.by/ | 240 |
MR party at Bobruisk
Once Upon A Time, we've decided to celebrate release of the new version of software that we were developing: Knova 6.6. Our team was 6 developers (boys

) and 3 testers (girls

). As a party place we selected the shore of Beresina river near the legendary Belarusian city
Bobruisk
. We selected this place because it's at the middle between Gomel (Developers were from Gomel) and Minsk (Testers were from Minsk). Also, the nature is beautiful there.
You can read about these places in classic Russian literature - "The Golden Calf" (Zolotoi telenok) written in 1931 by Ilya Ilf, Evgeny Petrov. Here is the extract:
"How's that? All of the plateau?" Balaganov taunted.
And why not add Melitopol, or perhaps Bobruisk?

At the mention of Bobruisk the entire convention moaned painfully. Everybody was ready to go to Bobruisk immediately. Bobruisk was considered a splendid, highly cultured place
Passive cooling of NForce 4
Recently I've upgraded to AMD 939 Sempron system. Everything was excellent, except noise. I've replaced CPU cooler to Thermaltake Sonic tower (excellent cooler for not-very-hot CPUs like Sempron). But the main source of noise was chipset cooler. It was small and extremely noisy.
So, I've decided to make a new cooler from old 939 one. Of course it's too big to be set on chipset. So I've sawed it on 2 parts. Then I've glued this radiator instead the old one.